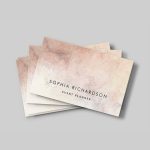 Standard Business Cards (One-Sided Print)
October 14, 2023
Standard Business Cards (Double-Sided Print)
$7,500
Size: Standard, 3.5″ x 2.0″
Elevate your professional image with our Double-Sided Standard Business Cards – where every side makes a statement. Crafted to perfection and customized to your unique needs, these business cards are an essential tool for networking, branding, and establishing your presence in the business world.
Description
Key Features:

🌟 High-Quality Print: Our business cards are printed with precision and attention to detail, ensuring a premium, professional look on both sides.

🎨 Custom Design: Customize both sides of your business cards with your logo, contact information, and brand colors to represent your unique identity.

📏 Standard Size: These business cards come in the standard size, making them easy to carry, share, and store.

📇 Networking Essential: Stand out at conferences, meetings, and events with double-sided business cards that leave a lasting impression.

🛡️ Durable Material: Our business cards are printed on durable, high-quality stock, ensuring they last longer and look great.

✨ Versatile Design: Use the back of your business card for additional information, a secondary design, or a special offer.

Make the right first impression with our Double-Sided Standard Business Cards. Simply upload your design, and we'll handle the rest. It's never been easier to create a professional image for your business. Get started today!
Paper: Standard Glossy /  Matte
A classic, all around paper with a natural feel with gloss coated and uncoated matte finish available